2019 MUSE Inspire Conference
---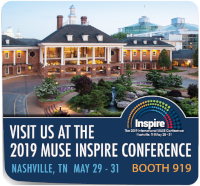 The 2019 International MUSE Inspire Conference was a big success. Acmeware was happy to offer the following workshops and education sessions. Please view or download any of the sessions below, or contact us if you'd like more information.
For 2018 conference sessions, click here.
2019 Conference Tuesday Workshops
Data Repository Boot Camp Basics - See this session
In DR Boot Camp Basics, we'll start with an overview of what DR is and how it fits into the MEDITECH systems picture. Then we'll demonstrate different ways to find the specific data you need from DR, so you can write your reports more quickly and efficiently, instead of constantly browsing table data. We'll dive into some basic T-SQL concepts that every report writer needs to know, including primary keys, indexing in SQL Server, writing more efficient table joins, reviewing execution plans and how to use both T-SQL and user-defined functions to improve your coding technique.
Alphabet Soup of Clinical Quality Measure Reporting and Reimbursement - See this session
CMS is transitioning to what they call "a new and more responsive regulatory framework" for quality reporting and reimbursement. We have already started experiencing the transformation of fee for service into value-based care models driven by the Value-Based Purchasing (VBP), Quality Payment Program (QPP), MACRA, Merit-based Incentive Payment System (MIPS) and Alternative Payment Models (APM).
Advanced Data Repository Boot Camp - See this session
In Advanced DR Boot Camp, we'll dive more deeply into T-SQL stored procedure coding techniques, including using CASE statements to define your own if/then logic, properly handing NULLs in DR, and different methods for working with data subsets, like temp tables and CTE. We'll also cover handling data in complex scenarios such as combining multi-valued results into a single column, pivoting your output, accurately performing date calculations and much more.
2019 Conference Education Sessions
CART – It's Not Just for Shopping Anymore! - See this session
In the past, organizations participating in chart abstraction had staff sifting through unstructured data in paper charts and converting it to discrete reportable data. This is time-consuming and requires extensive resources from both the IT and Quality departments. What if you could send data electronically to QualityNet's CMS Abstraction and Reporting Tool (CART)? In this session, we'll demonstrate how you can use MEDITECH Data Repository to capture electronically abstracted quality measure data and import it directly to CART, spending less time manually curating paper charts, and more time focusing on improving patient outcomes and hospital processes.
Quality Cycle Management Concepts for Continuously Reliable Results - See this session
Successful Electronic Quality Reporting can be daunting in its complexity yet cyclical in nature. If a systematic approach is applied each component, then re-addressed as changes are made in any portion of the program, a clear pathway to success can be achieved. This pathway requires three critical steps that will evolve into a predictive reproducible pattern for Quality Cycle Management. Attend this session to learn more.
Fun Times at the DR BAR - See this session
There are so many options to choose from when you go to a BAR. Which is the right one? The BAR application in MEDITECH Expanse is all new, as is the corresponding Data Repository table schema. What are the right choices for reporting summary and detailed patient accounting information? What's changed from earlier versions of BAR? If you're a report writer or financial analyst, come join this education session, where we'll help you navigate all that's new in BAR in Data Repository.
---
Data Repository Boot Camp Basics
---
Alphabet Soup of CQM Reporting and Reimbursement
---
Advanced Data Repository Boot Camp
---
CART – It's Not Just for Shopping Anymore!
---
Quality Cycle Management Concepts for Continuously Reliable Results
---
Fun Times at the DR BAR
---
2018 MUSE Presentations
Tuesday Workshops
702 - Custom BCA Dashboards with Visual Insight
703 - The Alphabet Soup of Clinical Quality Measures Reporting and Reimbursement
704 - Soup to Nuts, Data Repository 101
804 - Soup to Nuts, Data Repository 102
Educational Sessions
1010 - Revenue Cycle Optimization: Tools and Strategies for Success
1104 - The DR Overnight DBA
1103 - The Report Request Lifecycle