Downtime Defender by Acmeware.
A secure downtime application and report delivery system for the MEDITECH EHR.
---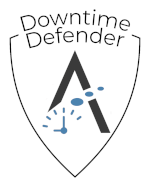 Downtime can happen due to system updates, ransomware attacks, network or power outages, or natural disasters.
Downtime Defender assures that mission-critical information necessary for continuity of care and business operations remains available during downtime events. Our application produces regularly scheduled current-state report snapshots from across the MEDITECH EHR, formatted in easy-to-read PDF documents, and securely stores them locally and in the cloud for guaranteed access during planned or unplanned downtime.
Make Downtime Defender part of your continuity of care plan.

Click the tabs below to see standard reports included with Downtime Defender.
Custom Reports
In addition to the standard reports, we can customize Downtime Defender with purpose-built reports for your organization and your specific workflow. Here's what we've already built for our clients:
Order Hold Queue: Displays all orders that are on hold due to other patient-related activities (imaging procedures, patient-fasting, or surgical procedures.
Lab Orders Worklist: Displays lab specimen and test information for lab staff reference and documentation and processing during downtime.
Downtime Defender: a complete solution.
Available for all MEDITECH versions with or without a cloud platform
Report delivery to your data center, the cloud, and your specified on-premises workstations
Secure and HIPAA-compliant reports, encrypted and optionally password-protected as .PDF files
Efficiently produced from Data Repository for more frequent updates with no performance degradation for MEDITECH end-users
Intranet-based report viewer allows for easy ad-hoc data review, selectable by facility, location, or patient account
Built-in dashboard for report status and data latency monitoring and alerting
Our combination of point-in-time data with future scheduled items provides a complete view of current and projected patient activity
Purposely designed and optimized with clinician input: patient-centric layout on paper becomes part of the chart during downtime events
Extensible reporting infrastructure allows for ongoing development of new reports and integration of third-party data
Flexible application and report configuration options to meet your specific needs and workflow
The best value among downtime solutions for the MEDITECH EHR
Case Study: Anderson Hospital
---
For more information about Downtime Defender, or to schedule a demonstration, contact us today.