CMS introduces a new scoring methodology for the Medicare Promoting Interoperability program for hospitals. Beginning in 2019, hospitals will be attesting to a smaller set of objectives and measures.
Earlier in 2018, CMS renamed the Medicare and Medicaid EHR Incentive Programs to the Medicare and Medicaid Promoting Interoperability (PI) Programs effective immediately. While CMS changed the name to better reflect the intent and direction of the program, CMS did not propose any changes to the program until the Fiscal Year (FY) 2019 Inpatient Prospective Payment System (IPPS) Proposed Rule. With the recent publication of the FY 2019 IPPS Final Rule, CMS finalized many of its proposals to completely restructure the Medicare PI Program for eligible hospitals and critical access hospitals (CAHs).
Beginning with Calendar Year (CY) 2019 reporting, CMS has finalized a new performance-based scoring methodology for the PI Program consisting of a smaller set of objectives including e-Prescribing, Health Information Exchange, Provider to Patient Exchange, and Public Health and Clinical Data Exchange. CMS finalized that this new scoring methodology would apply to eligible hospitals and CAHs that submit an attestation to CMS under the Medicare PI Program beginning with the EHR reporting period in CY 2019. This would include Medicare-only and dual-eligible eligible hospitals and CAHs. While this new methodology was not finalized for Medicaid-only eligible hospitals that submit an attestation directly to their State Medicaid agency for the Medicaid PI Program, CMS is giving states the option to adopt the performance-based scoring methodology along with the finalized measures.
New and returning participants are required to use 2015 Edition Certified EHR Technology (CEHRT) and attest to a minimum of any continuous 90-day period within the calendar year. Given that the reporting period is less than the full calendar year, the 2015 Edition of CEHRT must be implemented for a 90-day reporting period in CY 2019 but does not need to be implemented on January 1, 2019.
Under this new PI Program methodology, hospitals will be required to report certain measures from each of the four objectives, with performance-based scoring happening at the individual measure-level. Each measure will be scored based on the hospital's performance for that measure, except for the Public Health and Clinical Data Exchange objective which requires a yes/no attestation. Each measure score would be added together to calculate the total PI score of up to 100 possible points. To be considered a meaningful user and earn an incentive payment and/or avoid a Medicare payment reduction, eligible hospitals and CAHs must score at least 50 points.
To earn any score in the PI Program, CMS finalized that eligible hospitals and CAHs would have to attest that they completed the actions included in the Security Risk Analysis measure at some point during the calendar year and must submit the numerator and denominator or yes/no for all required measures. For measures that include a numerator and denominator, the hospital must submit a numerator of at least one. The numerator and denominator for each measure will translate to a performance rate for that measure contributing to the total PI score.
CMS finalized four objectives for the 2019 Hospital PI Program: e-Prescribing, Health Information Exchange, Provider to Patient Exchange, Public Health and Clinical Data Exchange with 6 required measures and 2 bonus measures. CMS has removed several measures from the 2018 PI program for hospitals but has retained e-Prescribing and the Public Health and Clinical Data Exchange measures. CMS renamed 'Send a Summary of Care' to 'Supporting Electronic Referral Loops by Sending Health Information' and 'Provide Patient Access' to 'Provide Patients Electronic Access to their Health Information'. CMS finalized a new measure, 'Support Electronic Referral Loops by Receiving and Incorporating Health Information', which combines 'Request/Accept Summary of Care' and 'Clinical Information Reconciliation'. CMS also finalized two new measures as bonus measures: 'Query of Prescription Monitoring Program (PDMP)' and 'Verify Opioid Treatment Agreement'. The measures and corresponding available points for scoring are outlined in the following table.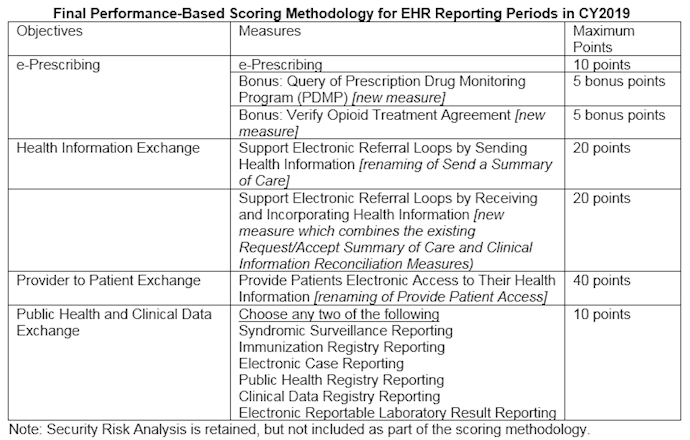 In the CY 2019 Quality Payment Program (QPP) Proposed Rule, CMS has proposed to align the Merit-based Incentive Payment System (MIPS) Promoting Interoperability Performance Category with the Medicare PI Program for eligible hospitals and CAHs. We will find out if this is finalized once the CY 2019 QPP Final Rule is published.