CCMS recently released the CY 2024 Outpatient Prospective Payment System (OPPS) Proposed Rule, which included proposals for the Hospital Outpatient Quality Reporting Program (OQR) Program.For the full text of the rule, see the Federal Register.
Outpatient Prospective Payment System (OPPS)
CMS has proposed numerous changes related to the OPPS including the adoption of three new measures, refinement of three existing measures, and removal of one measure.
Proposed New Measures
Adopt the Risk-Standardized Patient-Reported Outcomes Following Elective Primary Total Hip and/or Total Knee Arthroplasty measure

Provides specific insight into the quality of care of a common procedure
CY 2025 & CY 2026 - Voluntary reporting
CY 2027 - Mandatory reporting period - CY 2030 payment determination
There are pre-op and post op data collection requirements for this measure

Re-adopt the original Hospital Outpatient /ASC Facility Volume Data on Selected Outpatient Surgical Procedures with modification

CY 2025 Voluntary Reporting
CY 2026 Mandatory Reporting

Adopt the Excessive Radiation Dose or Inadequate Image Quality for Diagnostic Computed Tomography (CT) in Adults - electronic clinical quality measure (eCQM)

To promote patient safety
CY 2025 Voluntary Reporting
CY 2026 Mandatory Reporting – CY 2028 payment determination
CY 2027 reporting period - CY 2029 payment determination

Propose reporting all four calendar quarters (one calendar year) of data beginning with the CY 2027 reporting period - CY 2029 payment determination
Proposed Measure Modifications
The COVID-19 Vaccination Coverage Among Healthcare Personnel (HCP) measure to align with the updated Centers for Disease Control and Prevention (CDC) National Healthcare Safety Network measure specifications

The addition of the term "Up to Date" will be utilized in the measure definition
Update to the numerator to specify timeframes for which an HCP is considered to be up to date with the CDC's recommendations for the COVID –19 vaccinations and this will include booster doses
The measure calculation has not changed, and the data collection continues to require 1 week of data per month for each month of the quarter
The aggregated number of HCP eligible to work in the hospital for at least 1 day during the week of data collection
No proposed changes to the data submission or reporting process, but the updated version of this measure will begin with the CY 2024 reporting period for the Hospital OQR Program

The Cataracts: Improvement in Patient's Visual Function Within 90 Days Following Cataract Surgery

Beginning with the voluntary CY 2024 reporting period, CMS proposes to standardize the use of survey instruments that can be utilized to assess visual function pre- and post-cataract surgery and therefore, limit the survey instruments to:

The National Eye Institute Visual Function Questionnaire-25 (NEI VFQ-25)
The Visual Functioning Patient Questionnaire (VF-14)
The Visual Functioning Index Patient Questionnaire (VF-8R)

The Appropriate Follow-Up Interval for Normal Colonoscopy in Average Risk Patients measure

CMS proposes to align this measure with updated clinical guidelines.
The measure denominator would be modified to "all patients aged 45 years to 75 years receiving screening colonoscopy without biopsy or polypectomy" from "all patients aged 50 years to 75 years receiving screening colonoscopy without biopsy or polypectomy
Proposed Measures to Remove
The Left Without Being Seen measure

Beginning with the CY 2024 reporting period/CY 2026 payment determination
Fails to provide actionable information in sufficient detail to improve quality or patient outcomes
Timing of Data Submission
The following tables are excerpted from the proposed rule, regarding quarterly data submission deadlines for CY 2024, 2025, and 2026.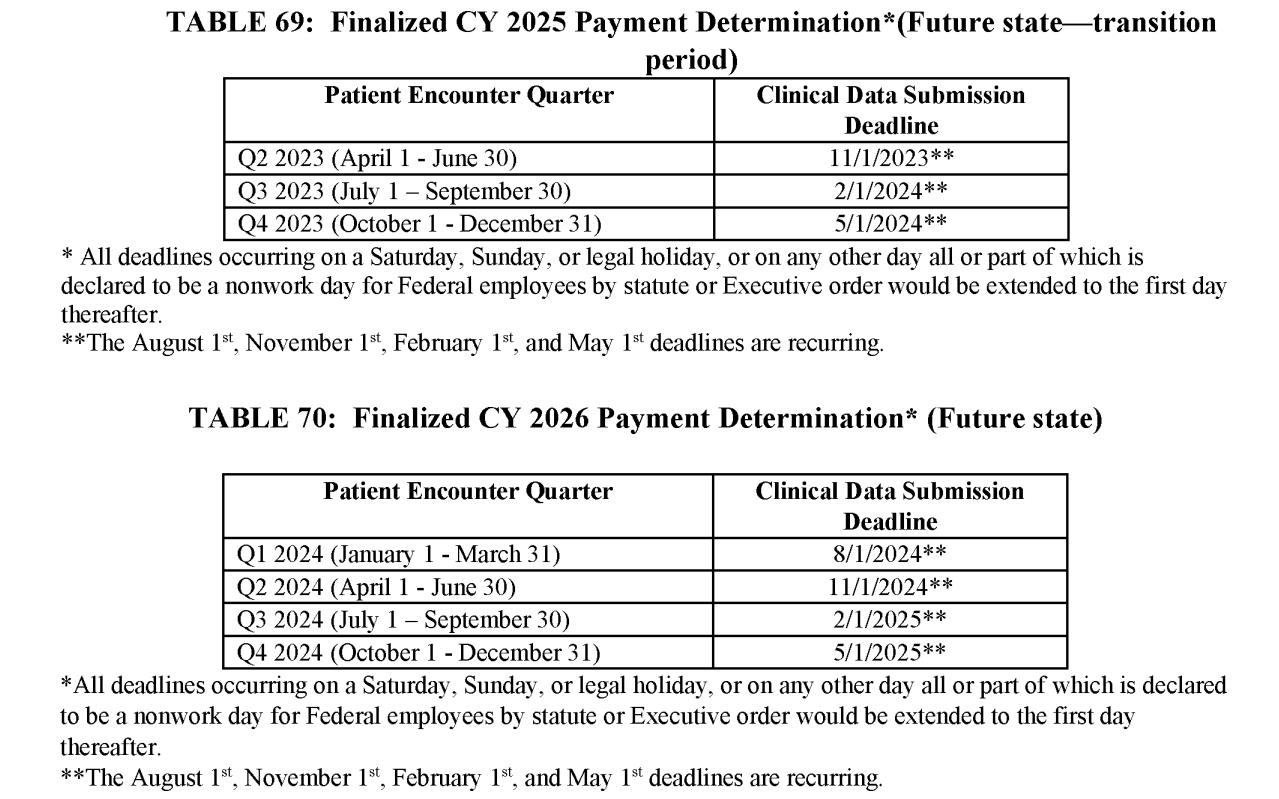 Validation
For validation purposes, CMS selects a random sample of 450 hospitals and selects an additional 50 hospitals based on targeting criteria. Beginning with validation affecting the CY 2023 reporting period (CY 2025 payment determination), CMS is proposing to add a fifth criterion to the targeting criteria. CMS is proposing that a hospital with less than four quarters of data subject to validation due to receiving an Extraordinary Circumstances Exception (ECE) for one or more quarters and with a two-tailed confidence interval that is less than 75% would be targeted for validation in the subsequent validation year.
Failure to meet OQR Program Requirements for the CY 2025 Payment Determination
Hospitals that fail to report data required to be submitted on measures selected by the Secretary, in the form and manner and at a time specified by the Secretary will incur a 2.0 percentage point reduction to their annual payment update.
Resources:
Federal Register 2024 OPPS Proposed Rule
If you have questions about your hospital reporting of OQR measures, please contact us.