CMS recently published the FY 2024 Inpatient Psychiatric Facilities Prospective Payment System (IPF PPS) Proposed Rule which proposed changes to the Inpatient Psychiatric Facility Quality Reporting (IPFQR) program. All IPFs, which include psychiatric hospitals and psychiatric units of an acute care hospital or critical access hospital, paid under the IPF PPS must meet IPFQR reporting requirements. For the full text of the proposed rule, see the Federal Register.
New Measures
In this proposed rule, CMS is proposing to adopt the following three measures focused on health equity and one patient experience of care measure for the IPFQR program.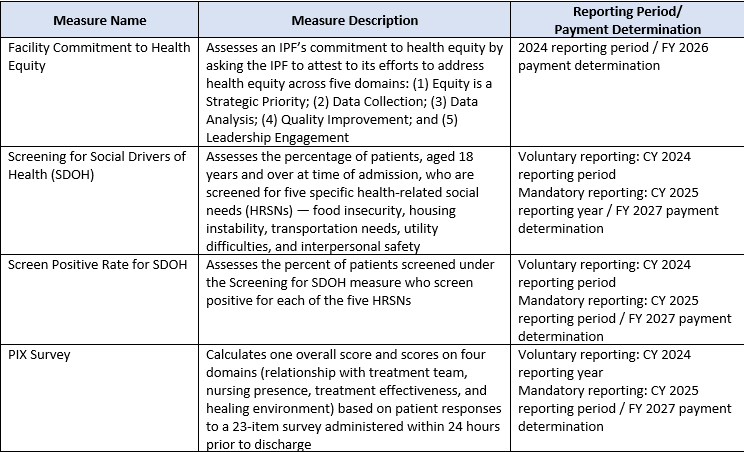 Removed Measures
CMS is also proposing to remove the following two measures beginning with 2023 reporting period/ FY 2025 payment determination.

Measure Modification
CMS is proposing to modify the COVID-19 Vaccination Coverage Among Healthcare Personnel measure, beginning with the fourth quarter of CY 2023 reporting affecting FY 2025 payment determination. CMS is proposing to modify the measure to require IPFs to report the cumulative number of HCP who are up-to-date with recommended COVID-19 vaccinations in accordance with the CDC's most recent guidance. The current version of this measure reports only on whether HCP had received the primary vaccination series for COVID-19.
Validation
Lastly, CMS is proposing to adopt a data validation pilot program beginning with CY 2023 reporting year data that is submitted in CY 2024. CMS proposes to randomly select on an annual basis up to 100 IPFs and request each selected IPF to provide to CMS 8 charts per quarter, a total of 32 charts per year, which will be used to validate all IPFQR measures submitted. This pilot will be voluntary and continue until a full data validation program is proposed and adopted in future rulemaking.
If you have questions about reporting your IPFQR measures, please contact us.