CMS recently published the CY 2021 Quality Payment Program (QPP) Final Rule which included numerous updates to the Merit-based Incentive Payment System (MIPS) for 2020 reporting and subsequent reporting years, with a focus on 2021 reporting. For the full text of the rule, see the Federal Register.
MIPS Value Pathways (MVPs)
MIPS Value Pathways (MVPs) were originally finalized to begin with the 2021 reporting year, but CMS did not propose any MVP candidates in this ruling and thus has proposed to not make MVPs available for MIPS reporting until the 2022 performance period, or later. CMS plans to have an MVP development webinar to review MVP development criteria, timeline, and process to submit a candidate MVP. Stakeholders would submit their candidate MVPs using a standardized template and MVPs would be established through rulemaking.
APM Performance Pathway (APP)

Beginning with 2021 reporting, CMS finalized a new pathway complementary to MVPs, the APM Performance Pathway (APP). The APP is only be available to participants in MIPS APMs and is required for Medicare Shared Savings Program (MSSP) quality determinations for ACOs. Like an MVP, the APP is comprised of a fixed set of measures for each performance category. Since MIPS APM participants are responsible for cost containment under their APMs, the Cost performance category will be weighted at 0%. Further, for the Improvement Activities (IA) Category, all APM participants will automatically receive a score of 100% for the 2021 performance period. Beyond 2021, the IA score will be automatically assigned up to 100% based on the IA requirements of the MIPS APM in which the MIPS eligible clinician participates. The Promoting Interoperability (PI) performance category will be reported and scored the same as it is for the rest of MIPS. Lastly the Quality performance category will include 6 measures that focus on population health and be applicable to all APM participants. In the APP framework Quality will be weighted at 50%, PI at 30%, IA at 20%, and Cost at 0%.
MIPS Performance Categories
Quality
CMS will continue to use historic data to calculate benchmarks for the CY2021 MIPS performance period. In other words, the benchmarks for CY2021 would be based on the data submitted during the CY2019 performance period.
CMS finalized 2 administrative claims measures for the Quality performance category. The first finalized measure is the Hospital-Wide, 30-Day, All-Cause Unplanned Readmission (HWR) Rate, which replaces the All-Cause Hospital Readmission Measure. The second finalized measure is the Risk-Standardized complication rate (RSCR) following elective primary total hip arthroplasty (THA) and/or total knee arthroplasty (TKA). While the first measure would only apply to groups with 16 or more clinicians that meet the case minimum of 200 cases, the second measure would apply to all individuals and groups that meet the case minimum of 25 cases.
Lastly, CMS extended the CMS Web Interface as a collection and submission type for groups through the 2021 performance period. The CMS Web Interface will be removed as a collection and submission type beginning with the 2022 performance period.
Cost
CMS added costs associated with telehealth services that are directly relevant to the existing episode-based cost measures and the Total Per Capita Cost (TPCC) measure. CMS has made the updated measure specifications with the added telehealth codes available on the MACRA feedback page.
Promoting Interoperability
CMS retained the Query of Prescription Drug Monitoring Program (PDMP) measure as an optional measure and made it worth 10 bonus points. In addition, CMS is finalized the name change for the Support Electronic Referral Loops by Receiving and Incorporating Health Information by replacing "incorporating" with "reconciling". The new name of the measure is Support Electronic Referral Loops by Receiving and Reconciling Health Information, which more accurately represents the actions of the measure's numerator, such as when no update or modification is needed within the patient record based on the electronic clinical information received. Lastly, CMS finalized the addition of an optional Health Information Exchange (HIE) bi-directional exchange measure, which is a Yes/No attestation measure. Individuals and groups can attest to this measure in place of HIE 1 and HIE 4. To meet this measure, the clinician's EHR would need to be enabled to allow for querying and sharing data by sending, receiving, and incorporating data via an HIE for every patient.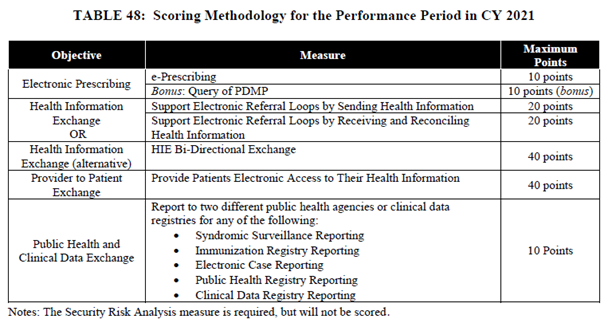 Improvement Activities
CMS modified 2 existing Improvement Activities and removed 1 for 2021 performance period. Further, CMS finalized that beginning with the 2021 performance period, new improvement activities that are nominated for inclusion in the program should be linked to existing and related MIPS quality and cost measures.
MIPS Scoring, Performance Threshold, and Payment Adjustments
For 2021 MIPS reporting, the final MIPS score will be based on the four performance categories and their corresponding weights. While the category weight of Promoting Interoperability and Improvement Activities remain the same, cost increases by 5% while quality decreases by 5%. By law Cost & Quality must be equally weighted at 30% beginning with 2022 performance period.
• Cost: 20%
• Quality: 40%
• Promoting Interoperability: 25%
• Improvement Activities: 15%

For 2021 reporting, the performance threshold is finalized at 60 points and the exceptional performance threshold will remain at 85 points. The MIPS payment adjustment is +/- 9% preserving budget neutrality.
Complex Patient Bonus
For the 2020 performance period, CMS finalized doubling the complex patient bonus allowing individuals and groups to earn up to 10 bonus points, instead of 5, on the MIPS score to account for a more complex patient population due to COVID-19. For the 2021 performance period, the complex patient bonus will be worth up to 5 bonus points.
If you have questions about MIPS or need help with your MIPS reporting, please contact us.