CMS recently published the CY 2020 Quality Payment Program (QPP) Final Rule which included numerous updates to the Merit-based Incentive Payment System (MIPS) for 2019, 2020 and 2021 reporting.
MIPS Value Pathways (MVPs)

CMS finalized MIPS Value Pathways (MVPs), a new MIPS participation framework, beginning with the 2021 MIPS performance period. The goal of MVPs is to "move away from siloed activities and measures and move toward an aligned set of measure options more relevant to a clinician's scope of practice that is meaningful to patient care." With MVPs, CMS intends to align activities and measures from the four MIPS performance categories that are applicable to a patient population, a specialty or a medical condition, thereby moving away from the current disconnected reporting of the MIPS performance categories. In the proposed rule CMS asked for feedback on several aspects of the structure and implementation of MVPs and will consider the comments received and continue to work with stakeholders as they develop and propose policies around MVPs. Since MVPs will be a significant shift from the current MIPS program, CMS plans for a smooth transition that does not immediately replace the current MIPS program.
MIPS Performance Categories
Quality
For the 2020 performance period, CMS increased the data completeness threshold from 60% to 70% for eCQMs, MIPS CQMs and QCDR measures. Beginning with the 2020 MIPS performance period, MIPS-eligible clinicians or groups must report on at least 70% of the patients that meet the measure's denominator criteria, regardless of payer.
CMS finalized its proposal to remove MIPS quality measures that do not meet case minimum and reporting volumes required for benchmarking after being in the program for 2 consecutive CY performance periods. However, CMS solicits feedback on how to determine a measure has low reporting rates due to selection bias or it not being a meaningful measure. Further, CMS has finalized that it may consider removing a MIPS quality measure if they determine it is not available to all MIPS eligible clinicians for reporting.
Additionally, CMS finalized a policy to use flat percentage benchmarks for all collection types as an alternative to the standard method of calculating benchmarks where the top decile for any measure benchmark is higher than 90 percent and when CMS medical officers assess that it would be inappropriate for some patients to achieve the outcome targeted by the measure benchmark. Instead of developing benchmarks based on the distribution of scores, flat percentages will be used when any performance rate at or above 90 percent will be in the top decile, any performance rate at or above 80 percent will be in the second highest decile, and this will continue for the remaining deciles. MIPS has finalized applying the flat percentages to two measures: Diabetes: Hemoglobin A1c (HbA2c) Poor Control (>9%) and Controlling High Blood Pressure.
CMS did not finalize its proposal for 2021 reporting to include a population health based All-Cause Unplanned Admission for Patients with Multiple Chronic Conditions measure. CMS will continue to review feedback and seek to propose it as a measure in future rulemaking. CMS will consider the feedback received related to the development of a new eCQM, Potential Opioid Overuse, for possible inclusion in MIPS in the future.
Cost
CMS finalized modifications to the Medicare Spend per Beneficiary (MSPB) measure and the Total Per Capita Cost measure regarding the attribution methodology. Beginning with this rulemaking, CMS will include the attribution methodology for each cost performance category measure in the measure specifications. This is a new approach as the cost measure attribution methodologies were previously only included in the rulemaking regulation text.
CMS also finalized 10 new episode-based measures beginning with 2020 reporting. Eight of the measures are procedural and two are acute inpatient medical condition episode measures. One of the acute inpatient medical condition episode measures, Lower Gastrointestinal Hemorrhage, was finalized only for groups reporting to MIPS.
Promoting Interoperability
Wth 2019 reporting, CMS changed the requirements of the optional Query of Prescription Drug Monitoring Program (PDMP) measure from a numerator/denominator requirement to a yes/no attestation. Also in 2019, CMS finalized that if an exclusion is claimed for the Support Electronic Referral Loops by Sending Health Information measure, the points will be redistributed to the Provide Patients Electronic Access to Their Health Information measure. If exclusions are claimed for both Health Information Exchange measures (Support Electronic Referral Loops by Sending Health Information and Support Electronic Referral Loops by Receiving and Incorporating Health Information) the combined 40 points will be redistributed to the Provide Patients Electronic Access to Their Health Information measure.
Beginning with 2020 reporting, CMS removed the Verify Opioid Treatment Agreement measure and kept the Query of the PDMP measure as optional for bonus points. Given that this measure will be optional, the e-Prescribing measure will be worth up to 10 points in CY 2020.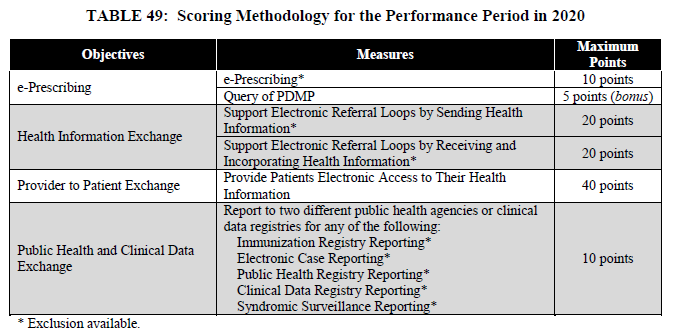 CMS also reduced the threshold for a group to be considered hospital-based. Instead of 100% of clinicians, more than 75% of the clinicians in the group must be a hospital-based MIPS-eligible clinicians for the group to qualify for the reweighting of this category to zero.
Improvement Activities
CMS removed the reference to the specific accredited organizations to be recognized as patient-centered medical homes or comparable specialty practices, as to not exclude other qualifying organizations. While this does not change the criteria for the designation, removing the specific examples allows for other accredited organizations to qualify.
Beginning with 2020 reporting, CMS increased the participation threshold for group reporting from a single clinician to 50% of the clinicians in the practice needing to perform the same improvement activity. The group must perform the same activity during any continuous 90-day period within the same performance year. Thus, the group does not have to perform the same activity for the same continuous 90-days. Prior to 2020 reporting, only one clinician within a TIN needed to attest to completion of an improvement activity. In the future, CMS hopes to have 100 percent of a group performing the same activity during any 90-day period within the same performance year.
CMS adopted seven factors for removal of improvement activities and updated the improvement activity inventory. For the 2020 performance period and future years, CMS has added two new improvement activities, removed fifteen and modified seven.
MIPS Scoring, Performance Threshold, and Payment Adjustment
For 2020 MIPS reporting, the final MIPS score will be based on the four performance categories and their corresponding weights. These are the same as they were for 2019 reporting.
Cost: 15%
Quality: 45%
Advancing Care Information: 25%
Improvement Activities: 15%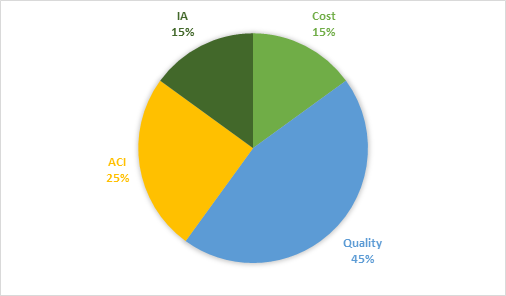 For 2019, the performance threshold is 45 points, an increase from the 2018 performance threshold of 30 points. The exceptional performance threshold increases to 85 points from 75. MIPS eligible clinicians and groups with a MIPS score of less than 45 points will receive a negative payment adjustment of up to 9% in 2021. Positive payment adjustments will be made while ensuring budget neutrality.
For 2020 reporting, the performance threshold is 60 points and the exceptional performance threshold will remain at 85 points. CMS did not finalize Quality and Cost performance category weights for the 2021 reporting period. However, beginning with 2022 performance period, law requires that the Quality and Cost performance categories be equally weighted at 30%.
Should you have questions about MIPS or need help with your MIPS reporting, please contact us.