What You Need to Know for Successful MIPS Reporting in 2018
In mid-November, CMS published the CY 2018 Quality Payment Program (QPP) Final Rule which included numerous updates to the Merit-based Incentive Payment System (MIPS) for Year 2 of the QPP (2018 Reporting). While there were also changes made to the other QPP track, Advanced Alternative Payment Models (APMs), this post will only cover MIPS.
MIPS Eligibility
No changes were made to the types of clinicians eligible to participate in MIPS in 2018. MIPS eligible clinicians continue to include physicians, physician assistants, nurse practitioners, clinical nurse specialists, and certified registered nurse anesthetists. However, there was a change made to the lowvolume threshold for 2018 reporting. In 2017 a provider or group was exempt from MIPS reporting if the provider or group billed less than $30,000 a year in Medicare Part B allowed charges or provided care to fewer than 100 Medicare patients a year. For 2018, CMS has finalized a higher low-volume threshold in which a provider a provider or group will be exempt from 2018 MIPS reporting if the provider or group bills less than $90,000 a year in Medicare Part B allowed charges or provides care to fewer than 200 Medicare patients a year. This change to the low volume threshold will exempt additional providers/groups from being eligible for MIPS reporting; however, these providers/groups will still have the option to voluntarily report. There were no other changes made to the exemption criteria for MIPS participation. Those providers that are newly-enrolled in Medicare during performance period or those that are significantly participating in Advanced APMs continue to be exempt from MIPS reporting.
Reporting Options
In Year 1 of MIPS, providers had the option to report as an individual defined by TIN/NPI or as a group defined by TIN. In Year 2, a third reporting option has been finalized which is virtual groups. A virtual group consists of solo practitioners and groups of 10 or fewer eligible clinicians who aggregate their reporting data virtually to report to MIPS. Virtual groups election must occur prior to the beginning of the performance period. For the 2018 MIPS performance period, the election period was October 11 to December 31, 2017.
Submission Options
All of the submission mechanisms (i.e. EHR, QCDR, Qualified Registry, Claims, Attestation) remain the same for both individuals and groups from Year 1 to Year 2. Providers and groups are required to continue to use 1 submission mechanism per performance category in 2018. CMS' proposal to allow providers and groups to use multiple submission mechanisms per performance category was finalized for Year 3.
MIPS Special Status
Non-patient facing
For 2017 MIPS reporting, an individual provider was considered non-patient facing if the provider had 100 or fewer patient facing encounters. A group was considered non-patient facing if 75 percent of the NPIs billing under the group's TIN during a performance period are considered non-patient facing. No changes were made to this criteria for 2018 MIPS reporting.
Small Practice
CMS continues to define a small practice as practices consisting of 15 or fewer eligible clinicians.
Hospital-based
For 2017 reporting, a clinician was considered hospital-based if he/she furnished 75% or more of his/her covered professional services in the inpatient hospital, on-campus outpatient hospital, or emergency room settings. A group was considered hospital-based if all clinicians in the group were hospital-based. For 2018 reporting, CMS expanded the definition to include covered professional services furnished by a MIPS eligible clinician in an off-campus outpatient hospital.
MIPS eligible clinicians or groups can also be considered special status based on practice designation as Rural or Health Professional Shortage Area (HPSA).
MIPS Performance Categories
Cost
In Year 1 of the QPP, the Cost category was weighed at zero percent, thus having no impact on a provider or groups final MIPS score. However, for Year 2 (2018 Reporting), CMS has finalized that Cost will be weighted at 10% of the Total MIPS Score. The two administrative claims-based measures used in calculating the MIPS Cost Score are Medicare Spending per Beneficiary (MSPB) and total per capita cost. These measures were used in the Value Modifier and in Year 1 (albeit did not contribute to the 2017 MIPS Score). An individual MIPS eligible clinician or group will be scored on these measures if they meet the case minimum. Since these measures are scored using administrative claims, individuals and groups are not required to submit any information for the Cost performance category. The performance period is the full calendar year. There is up to 1 percentage point available in the Cost category for Improvement which is scored based on statistically significant changes at the measure level.
Quality
In Year 2 of the QPP, the Quality performance category will be weighted at 50% instead of 60% to account for the new weighting of the Cost category. An eligible clinician or group must still report on 6 measures, including 1 outcome measure or high priority measure, but instead of reporting for a minimum of a continuous 90 days, must report on the full calendar year. Furthermore, the data completeness requirement is increased from 50% to 60%. Measures that do not meet data completeness will only receive 1 point, but small practices will continue to receive 3 points. No other changes have been made to the scoring. Improvement for the Quality measures will be measured at the performance category level. There are 10 points available for improvement and greater improvement will result in more points.
Topped Out Measures
Measures are considered topped out when meaningful distinctions and improvement in performance can no longer be made. Topped out measures will be removed and scored on a four-year phasing out timeline. Measures that are deemed topped out for at least 2 consecutive years and have benchmarks will receive up to 7 points, as opposed to 10.
Advancing Care Information
For 2018 reporting, CMS finalized that eligible clinicians and groups can report Advancing Care Information (ACI) objectives and measures using 2014 Edition CEHRT, 2015 Edition CEHRT or a combination of both. However, there is a 10% bonus available in the ACI category if only using the 2015
Edition CEHRT. For 2018 reporting, a provider or group can earn 10% in the ACI performance score for reporting to any single public health agency or clinical data registry. This is a change from 2017 reporting, where 10% was available in the ACI performance score for reporting to an immunization registry specifically. For 2018, a 5% bonus score is available for submitting to an additional public health agency or clinical data registry not reported under the performance score. Small practices, practices in rural areas, geographic HPSAs, and non-patient facing MIPS eligible clinicians will continue to need no more than 2 activities.
CMS will re-weigh the ACI category to 0% and reallocate the 25% to the Quality category for hardship exceptions and there will not be a 5-year limit to this exception. There are new significant hardship exceptions for small practices, Ambulatory Surgical Centers (ASC)-based clinicians, and MIPs eligible clinicians whose EHR was decertified. The new deadline for applying for a hardship exception is December 31 of the performance period.
Furthermore, beginning with 2017 reporting year, CMS finalized exclusions for e-Prescribing and Health Information Exchange measures.
Improvement Activities
For Year 2 of the QPP, CMS did not make any changes to the number of activities MIPS eligible clinicians must report to achieve a total of 40 points. CMS did, however, finalize more activities and made some changes to existing activities, increasing the inventory from 92 to 112 available activities. To receive full credit for Improvement Activities in 2018, 50% of practice sites within a TIN need to be recognized or certified as patient-centered medical homes (PCMH). This is an increase from 2017 MIPS where only one practice site had to be a PCMH for the TIN to receive full credit.
Additional Bonus Points
For 2018 MIPS reporting, clinicians can earn up to 5 bonus points for the treatment of complex patients based on a combination of the Hierarchical Condition Categories (HCCs) and the number of dually eligible patients treated. Furthermore, any MIPS eligible clinician or group in a small practice will receive 5 bonus points to the MIPS score so long as the individual or group reports on at least 1 performance category for the applicable performance period.
MIPS Scoring, Performance Threshold, and Payment Adjustment
For 2018 MIPS reporting, the final MIPS score will be based on the four performance categories and their corresponding weights.
Cost: 10%
Quality: 50%
Advancing Care Information: 25%
Improvement Activities: 15%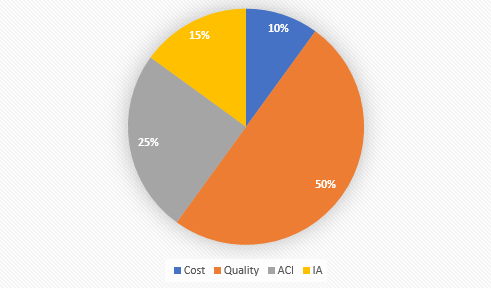 For 2018, the performance threshold has been set at 15 points, an increase from the 2017 performance threshold that was set at 3 points. The exceptional performance threshold remains at 70 points. MIPS eligible clinicians and groups with a MIPS score of less than 15 points will receive a negative 5 percent payment adjustment in 2020. Positive payment adjustments will be made while ensuring budget neutrality.