Acmeware, a leading provider of healthcare technology solutions, is pleased to announce the appointment of Joel Benware, FACHE, CHCIO, CHC, as the new President of the company. Mr. Benware will be taking on this pivotal role to lead Acmeware into its next phase of growth and innovation, effective August 1, 2023.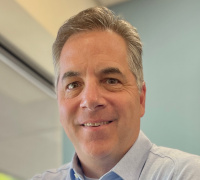 As President, Joel Benware will be responsible for driving strategic initiatives, enhancing customer relationships, and fostering collaboration within the healthcare technology sector. With over 20 years in hospital executive positions, Mr. Benware is poised to spearhead Acmeware's commitment to delivering innovative solutions and exceptional service that meet the evolving needs of healthcare organizations.
Glen D'Abate to Transition to Chairman of the Board
Glen D'Abate, currently CEO of Acmeware, will work closely with Mr. Benware during a transitional period to ensure a seamless leadership change. Following this period, Mr. D'Abate will assume the position of Chairman of the Board of Directors, where he will continue to contribute his wealth of industry knowledge and guide the company's long-term vision.
"We are delighted to welcome Joel Benware as the new President of Acmeware," said Glen D'Abate. "Joel's proven track record in healthcare technology and his deep understanding of the industry make him the ideal leader to drive Acmeware's growth and strengthen our position as a trusted partner for Meditech customers. I am confident that under Joel's leadership, Acmeware will continue to thrive and deliver exceptional value to our clients."
"I am honored to join Acmeware as President and have the opportunity to work alongside a talented team committed to delivering excellence in healthcare technology," said Joel Benware. "I look forward to building upon the company's strong foundation and collaborating with our valued customers and partners to drive innovation, enhance the Meditech experience, and ultimately improve patient care."
Acmeware remains dedicated to its mission of empowering healthcare organizations through innovative solutions and exceptional customer service. With Joel Benware at the helm, the company is well-positioned to drive meaningful change in the healthcare technology landscape.
---
About Acmeware, Inc.
Acmeware is a leading provider of healthcare technology solutions, specializing in optimizing Meditech systems. With a focus on delivering exceptional products, services, and support, Acmeware empowers healthcare organizations with superior information to make knowledgeable decisions.
Note: FACHE stands for Fellow of the American College of Healthcare Executives, CHCIO stands for Certified Healthcare Chief Information Officer, and CHC stands for Certified in Healthcare Compliance.