Certified hospital quality reporting since 2013.
---

Our OneView™ Hospital Quality package leads the way for MEDITECH hospitals to comply with government quality reporting programs. Use OneView HQ to electronically collect, validate, analyze, report and submit eCQMs for these inpatient-based programs:
CMS Hospital Inpatient Quality Reporting (IQR)
CMS Medicare Promoting Interoperability (PI) for eligible hospitals, dual-eligible hospitals and critical access hospitals (formerly Meaningful Use)
The Joint Commission ORYX®
In addition, OneView also supports Medicare and Medicaid PI objective measure data collection and validation for hospitals, so you can attest with confidence to CMS. See our complete list of Eligible Hospital supported measures for 2020.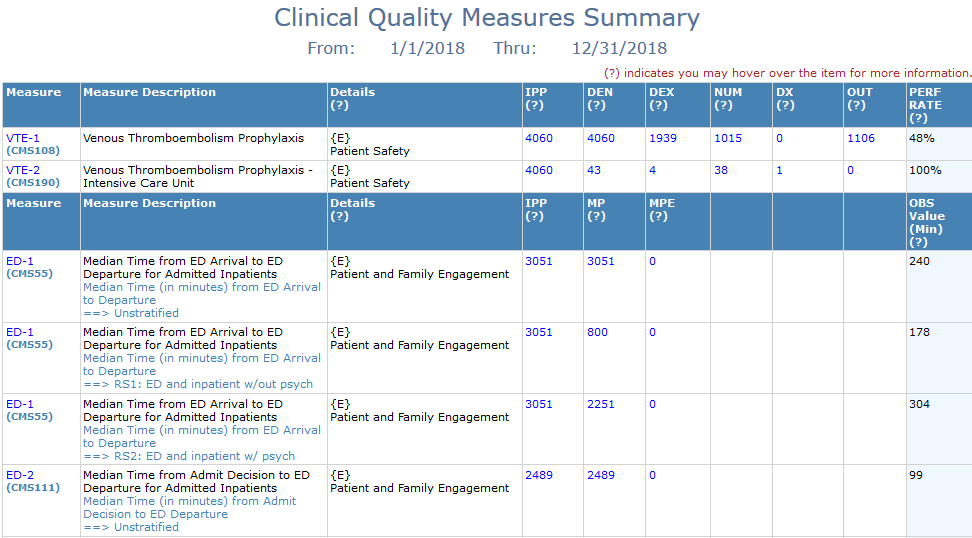 ORYX and chart-abstracted measures
As an approved chart-based vendor, we've built OneView to support the collection and reporting of chart-abstracted measures for The Joint Commission ORYX®. OneView also supports chart-based measures for CMS Hospital Inpatient Quality Reporting (IQR) and CMS Hospital Outpatient Quality Reporting (OQR). See our complete list of supported chart-abstracted meaures for 2020.
OneView HQ includes a comprehensive set of summary and dashboard reports so you can see measure-level performance across your patient population. Our data validation reports let you drill into the data and discover detailed criteria about why a performance measure may or may not have been met for an individual patient. Our software implementation and ongoing support include expert consulting services, so you can be assured that your system is properly configured to optimize your electronic data capture, year after year, even as regulations and specifications change.
Contact us today for more information about how OneView can take care of your quality reporting needs.